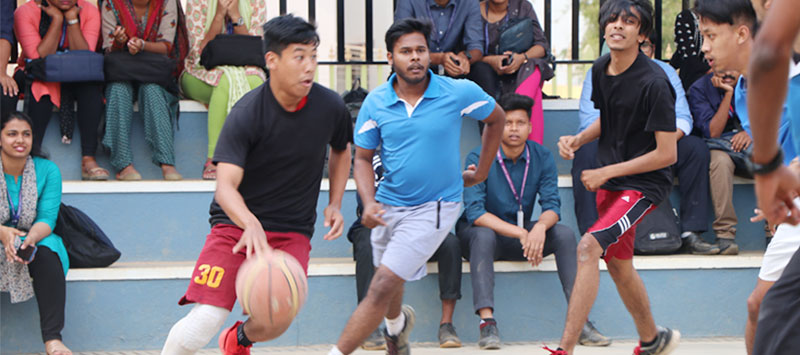 Sports & Games
Kristu Jayanti College of Law is well known for its performance and achievements in sports and games. Our students have taken active participation in the events conducted by the Karnataka State Law University, Hubli and other Sports Meet that happens across the nation. The Sports department coordinates the events which help students to perform well in all sports and game events at University, State and National Level. The College works in collaboration with many recognized coaches who give coaching to students in various games like basketball, football, cricket, throwball, volleyball, badminton and table tennis. An outstanding state-of- the-art facilities is available to coach the students and considerable investment is made every year to have quality equipment's for the students.
The Kristu Jayanti College of Law organizes its sports fest Khelotsava every year. This event is usually spread across one week and gives the students an opportunity to showcase their talent in a variety of events including both athletics and sports. We at Kristu Jayanti College of Law believe that sports is a very effective means of inculcating a spirit of leadership and unity amongst the students and plays an important role in the overall development of their persona.
Students from the Kristu Jayanti College of Law have represented the College in the Inter Collegiate Athletic Meet. Karnataka State Law University, Hubli Inter Collegiate Football Tournament and several other events in the State and National Level and have won laurels for the College.