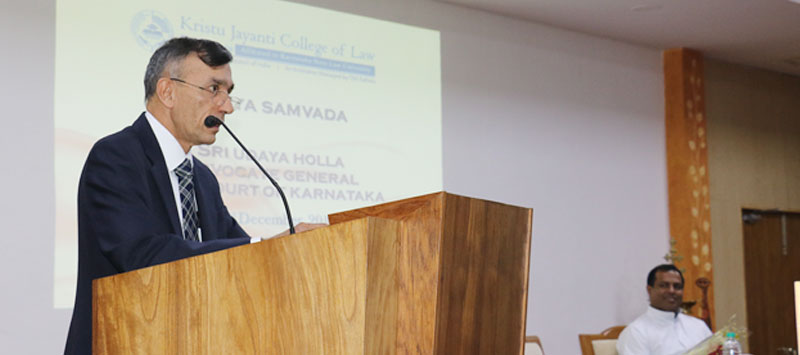 Student Achievements
MR. PRANAV

BBA. LLB. 5th Semester

1st Place JAM

MR. PRANAV

BBA. LLB. 5th Semester

1st Place Treasure Hunt

MR. RAKSHITH  G S

B.Com LLB 3rd Semester

MR. MILEN ZACHARIAH JOHN

BBA. LLB. 3rd  Semester

MR. ARUN  D S

BBA. LLB. 3rd  Semester

MS. SEBREENA  DAVID

BBA. LLB. 3rd  Semester

2nd Place Treasure Hunt

MR. AQEEL MUHAMMED  K H

BBA. LLB. 3rd  Semester

MR. ASHIN SAJAN MATHEW

BBA. LLB. 3rd  Semester

MR. ARAVIND  VARGHESE

B.A. LLB. 3rd  Semester
The students participated in AD INFINITUM – 19 CULTURAL FEST, which was held at KLE Society's Law College, Bengaluru on 24th and 25th October 2019.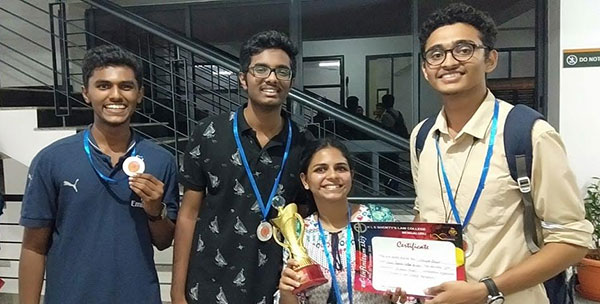 ---
Kristu Jayanti College of Law won 35th YMCA Inter Collegiate Model Parliament Competition 2019. (Law Category) held on 20th and 21st September 2019 at Bengaluru.
Best Prime Minister Award Ms. Riya Dwivedi, 5th Semester BBA LLB
Best Opposition Member Ms. Jopsy Elsa George, 5th Semester BA LLB
Best Marshalls 1. Mr. Sahil Kumar Gupta, 5th Semester BBA LLB
2. Ms. Hanna Elsa Jacob, 3rd Semester BA LLB
3. Mr. Sanjay Priyan, 1st BBA LLB
4. Mr. A Ananth, 1st BBA LLB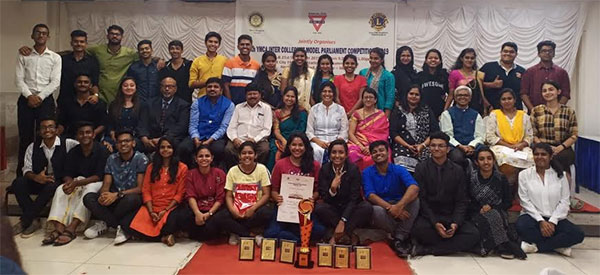 ---
Mr. Krishna Keerthan S, B.Com LLB 5th Semester has won Best Negotiator award in the National Deal Negotiation-Mediation Competition, CONCORDAT 2019 which was organised by IFIM Law College, Bengaluru from 7th -8th September 2019.
---
Ms. Jopsy Elsa George, BA LLB 5th semester has published her paper on 'Thinking Equal, Building Smart and Innovating for Change-She as an Entrepreneur' in International Journal of Law Management & Humanities International Article Writing Competition. Volume 2 Issue 3, 2019.
---
The students participated in RHAPSODY 2019 which was held at Bangalore Institute of Legal Studies at Bengaluru on 29th March 2019.
Winners List:
Ms. Jopsy Elsa George

B.A. LLB 4th Semester

1st Place Debate Competition
and Best Team

Mr. Tarul Joseph Thottungal

B.Com LLB 4th Semester

Mr. Jacob George Thannickal

BBA LLB 4th Semester

1st  Place Movie Buff

Mr. Pranav K

BBA LLB 4th Semester

Mr. Abishek Paul Naragani

B.Com LLB 4th Semester

Ms. Anoushka Rajan

BBA LLB 4th Semester

3rd Place Air Crash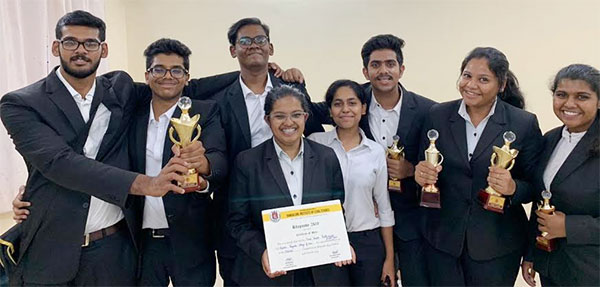 ---
Mr. Krishna Keertha S of B.Com., LL.B. have secured First Place and presented a paper on 'Evaluating the Antecedents and Descendants of Anti Corruption Laws in India' in One Day State Level Workshop for Students on ' Role of Students in Prevention of Corruption in India' organized by Vidyavardhaka Law College Mysuru on 17th November 2018.